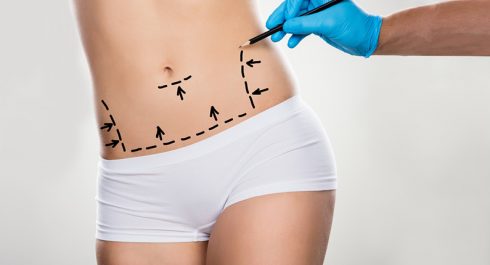 Dramatic weight gain and loss and pregnancy are the main reasons for a sagging and loose stomach skin. That causes the skin to stretch and lose elasticity which can not be corrected with traditional methods.
Abdominoplasty, also known as tummy tuck surgery, is a cosmetic surgical procedure that aims to get a smoother abdomen. The procedure involves eliminating excess sagging skin, and stubborn fat that couldn't be eliminated by exercising and diet.
Each year, thousand of people come to our clinic in Istanbul-Turkey to benefit from this plastic surgery.
Tummy tuck surgery procedure
There are two different method to perform tummy tuck surgery. The surgeon will select the appropriate method according to the amount of excess skin, sagginess and the patient's expectations. In both methods the patient will receive general anesthesia.
Full tummy tuck incision : 
The surgeon will make an incision along with the bikini line, then pull down and remove the excess skin and fat. Additionally, he will tighten the weakened abdominal muscles. Depending on the amount of skin pulled and removed, the procedure may require repositioning of the belly button. Although, full tummy tuck leaves more scars, it gives the best results for upper and lower abdomen sagging. Also, it is suitable for patients who have recently lost a massive amount of weight, and for women who have stubborn fat and excess abdominal skin after pregnancy.
It usually targets the lower abdominal area. The surgeon will perform a smaller incision into the bikini line. Then he will pull the skin down and remove the excess skin and fat. The surgeon may or may not tighten the abdominal muscles, also he will not reposition the belly button but it may be pulled into a lower position. Mini tummy tuck surgery causes minimal scarring, however, it has less effective results. In fact, it targets the lower abdomen only. So it is recommended for women who plan pregnancy as they may need revision surgery.
Recovery after tummy tuck surgery
The days after the surgery, you should expect feeling some pain that can be managed with a painkiller. You should wear a compression garment for 4 to 6 weeks, to help reduce swelling and bruising, and accelerate the healing process.
The doctor will give you instructions that you must follow exactly to avoid any complications. The most important is to have plenty of rest especially for the first 2 week. Avoid any movement that may stretch your abdomen and tear the sutures.
You can shower after 48 hours but try to dry the incision line very well with a clean towel. You can return back to your daily light activities after 2 weeks, including office work. More vigorous physical activities can be resumed after 3 to 4 weeks, including cycling and treadmill, but no heavy lifting. After 8 weeks you will be able to resume all activities.
After the incisions are completely healed , the surgeon may recommend scar massaging to smooth the scars.
Tummy tuck results
The results of tummy tuck are highly satisfying, as it gives you a more toned and slimmer looked abdomen. You will be able to see the final results after 6 to 9 months when everything settles. However, you can start enjoying your new shape after 6 weeks once the swelling and bruising resolve.
Before After Gallery
FAQ
Tummy tuck is not a weight loss surgery. It targets the excess sagging abdominal skin and fat, and the stubborn fat that can not be eliminated by traditional methods.
Pregnancy may cause weight gain and the abdominal muscles to be weakened. Therefore, you must wait until you are finished with pregnancy to do the surgery.
Some surgeons may choose to do liposuction along with abdominoplasty if necessary. That may help to better contour the shape of the abdomen.