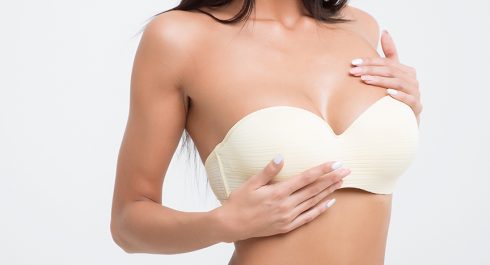 Many women may not desire to change their breasts size (reduce or enhance). However, they may be unhappy with their sagging and droopy breasts. As women get older the breast tend to lose elasticity and firmness. Other reasons such as pregnancy, breast feeding and weight fluctuation may accelerate the process.
Mastopexy or breast lift is a surgery that aims to treat breast sagginess and improve their shape and firmness. The procedure involves removing excess skin, and repositioning the areoles to get a more youthful appearance.
How is breast lift surgery done ?
The surgeon will perform with general anesthesia. He will first determine the new position of the areoles that suites the new breast shape. Then he will make incisions around the nipples and extend it downward to the breast creases.
After removing excess skin and areoles repositioning into a higher position, the surgeon will lift up the skin to form the new breast shape. To close the incision he may use layered sutures to maintain the internal tissues. Stitches, skin adhesive or medical tape may be used to close skin incisions.
Recovery after breast lift surgery
After breast lift surgery, a bandage or gauze will wrap your breast for the first few days. The patient should expect swelling, bruising and soreness. Therefor, the doctor may prescribe painkiller, and wearing elastic bandage to help reduce swelling and support the tissues while healing.
Although, the patient may return to her daily activities after one week, and to work after two weeks, more strenuous activities should wait up to 3 weeks. Meanwhile, she should avoid any movement that may cause stretching or tear sutures.
The results
Breast lifting results are highly satisfying, most women who has undergone the surgery claim feeling confident and their self image improved noticeably.
Although the results are permanent, they may change overtime because of pregnancy or weight gain or loss. Also if you intend to breastfeed after the surgery you might talk to your surgeon, as it may be affected after the surgery.
Breast lift surgery candidates
You can consider breast lift surgery if you :
Are a healthy person.
Have a stable healthy weight.
Feel that your breasts are sagging.
Think your nipples are too large or point downward.
Feel that your breasts have elongated shape or look pendulous.
Have realistic expectations.
Have one breast lower than the other.
Before After Gallery
FAQ
Surgeons do not recommend to combine breast implant with breast lift, and that because of potential complication such as necrosis of the nipples. However you can start with breast lift then do breast implant after weeks or months.
Breast feeding is possible after undergoing breast lift surgery, however some patient may have difficulties producing enough milk to breast feed.
You can resume any strenuous activities including exercising after two months.