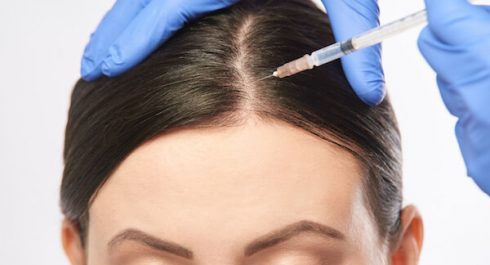 Losing hair is one of the most frustrating things for men and women nowadays. Whether it is androgenic or due to external factors, scientist has never give up of finding a treatment to stop hair loss. Thus, one of the most recent methods that has been proved to stop or slow hair loss and treat thinning hair is "PRP".
PRP or Platelet Rich Plasma is a treatment that involves small injections into the scalp. PRP injections consist of nutrients and growth factors harvested from the blood. It is like a natural fertilizer for hair cells, as it provides the essential growth factors to produce thicker and healthier hair.
ACell may be combined to PRP for injection. ACell is an extra cellular matrix which is a protein complex that improves tissues regeneration and new tissue growth.
What is PRP treatment ?
PRP is a three steps procedure. No anesthesia or preparation is necessary as it is not a surgical procedure.
Firstly, the doctor will draw blood from the patient himself and put it into a tube. Second step is separating the platelet rich plasma from the rest of the blood by centrifugation. And finally, putting the separated plasma into small syringe, combined with ACell to inject it into the patient's scalp.
The procedure lasts 15 minutes and it is noninvasive, and with no side effects. However, some patients find the shots painful even with numbing medicines.
Who can benefit from ACell + PRP treatment ?
Platelet rich plasma is suitable for men and women who suffer from thinning hair or hair loss and male pattern baldness. Also, people who have undergone a hair transplant surgery are recommended to have PRP. As it accelerates the regeneration process and gives a kick to the implanted hair follicles.
ACell + PRP complex has also proved effectiveness in regrowing hair in alopecia areata, hypotrichosis of the eyebrows or beard and other cases of nonhereditary hair loss.
The treatment may need 3 to 5 sessions at a 3 to 4 weeks interval. Depending on the hair loss reason, one may need another PRP treatment after 6 month to one year.
What to expect from ACell + PRP ?
PRP treatment can slow the hair loss process, reduce the volume of hair loss and helps thicken thinning hair. Also, it improves the hair's healthy and shiny look. However, it doesn't regrow hair where the hair follicles doesn't exist anymore, for that you need hair transplant.
FAQ
PRP injection is a very invasive procedure, but you may be hurt by the needle while applying it.
You can continue your daily life immediately after the PRP session. You just need to not wash or irritate the area and let it rest overnight.
You can wash your hair 24 hours after the PRP session, and you can style it as usual.