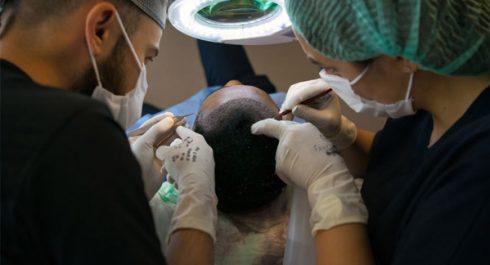 The HYBRID hair transplant method gives you the perfect hair that you've always dreamed of.
HYBRID hair transplant technique is the combined application of FUE and DHI procedures together in a single session.
With the DHI procedure which is applied by entering into the areas where the existing hair is located, the front line and hair intensifying processes provide a more natural and realistic look. And with the sapphire tips, the transplantation process is carried out without any tissue loss on hairless areas where the openness is intense. With this method, you can return to your daily life after transplantation in a shorter period.
How can I know if I'm SUITABLE FOR THE HYBRID HAIR TRANSPLANT?
People who have openness or hair in certain areas,
Patients whose hairless areas cannot be closed in a single session with DHI hair transplant procedure,
People whose hairless areas cannot be intensified just with the FUE hair transplant procedure are ideal people for the HYBRID hair transplant technique.
The technique that suits you best should be determined by making the necessary analyses in terms of the right person's if you choose the right technique you'll get the perfect results