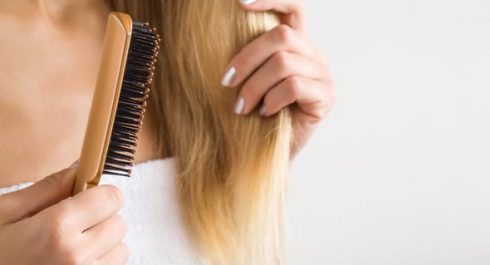 Hair loss or hair thinning may occur for many reasons. It can be temporary, reversible or hereditary and irreversible, there may be some solution to stop or slow down hair loss.
What can cause hair loss ?
Some degree of hair loss is normal. As people get older, their hair may naturally start to lose volume and strength. However, some people may notice significant hair loss and even formation of bald patches. In this case they must visit their doctor to treat the cause and save their hair.
The most possible causes of hair loss are :
Male or female pattern hair loss : also called androgenic alopecia. Genes and hormones causes androgenic alopecia that affects many people male and female at any age. Although, the likelihood of androgenic alopecia increases with age.
Alopecia areata : is an autoimmune disease that causes hair loss in round patches on the scalp. It can also affect the eyebrows, beard, and other areas where hair is present. In this case, hair can regrow back as soon as the disease is treated.
Nutrient deficiencies : Protein is an essential component of hair. Micronutrients, which include vitamins and minerals, play a key role in the hair follicle growth cycle. Maintaining a healthy varied diet can help promote hair growth.
Continuous stress : A long period of significant stress often causes hair thinning. Usually, after the cause is treated people notice their hair returning to its normal volume.
Hormonal changes caused by pregnancy and menopause : May not need intensive treatment. As the hair loss stops when the hormones adjust.
Possible treatment for hair loss
It is important to know the reason of your hair loss before initiating any treatment. Only the doctor can provide the right treatment for your case after diagnosing the cause. Some of possible treatments that can stop or slow hair loss are :
Medications : Minoxidil and finasteride are the most commonly used to treat androgenic alopecia. While minoxidil can be effective for both men and women as a topical solution, finasteride is a prescription drug for men only.
Hormones therapy : If the cause is due to menopause, some hormone therapy medications may correct them. Also if the problem is excess androgens production, the doctor may prescribe some anti-androgens to stop them.
Laser light treatment : Low-level light therapy may not be sufficient treatment for hair loss on its own, but it may act to amplify the effects of other hair loss treatments, such as minoxidil.
Mesotherapy : Is a cocktail of vitamins, minerals and amino acids which is injected into the scalp to rejuvenate the hair cells and strengthen the hair. And it involves a series of transdermal small injections to treat androgenic alopecia.
Vitamins supplements : If the problem is vitamins and nutrients deficiency, the doctor may recommend the use of vitamin supplements along with an appropriate diet.
Using prescribed medications, topical treatments, and natural remedies can help prevent or slow down hair loss. In some cases, treating an underlying condition will solve hair loss. Thus, we recommend a more precise diagnosis of your case by your doctor.